Keep up with HIG on Instagram
---
HIG Athlete Updates
Grace Norman Finishes 2022 Undefeated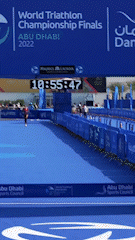 2022 was truly a year of abundance for Grace Norman. Over and over, we watched her take the win in her races. And with her last win of the season at the World Triathlon Championship Finals Abu Dhabi, Grace became the undefeated 2022 World Champion for Paratriathlon.
Grace's 2022 Wins:
• 2022 World Triathlon Championships Finals Abu Dhabi
• 2022 World Triathlon Para Series Montreal
• 2022 World Triathlon Para Cup A Coruna
• 2022 World Triathlon Para Cup Besancon
• 2022 World Triathlon Para Series Yokohama
• 2022 Americas Triathlon Para Championships Sarasota-Bradenton
Who is this World Champion athlete and what's her story? Grace took the spotlight with her sponsor, Shimano in 2021 with the inspiring video, Able. In this video we hear a little bit about her experience growing up in an athletic family and the way she leverages hard work and a determined mindset to accomplish her many goals. This is not to be missed. Inspiring words and harrowing imagery that are sure to motivate and empower.
After competing and medaling for Team USA in the 2016 and 2020 Olympics, Grace is pressing ahead to the 2024 Olympics in Paris. Keep up with her training and races on IG.
‹ Back